The development history of the Empresa:
1.The Empresa and Luoyang North Yichu Co., Ltd. jointly established Chongqing Beiyi Vehicle Co., Ltd. in 2012. A strong alliance, the Empresa is located in Chongqing (Tres ruedas de carga en China Motocicletas en China production base).
2. The Empresa passed the production access license issued by the Ministry of Industry and Information Technology and the Ministry of Commerce in 2012. There have been only 15 companies in Chongqing for many years, and Chongqing Beiyi Vehicle Co., Ltd. is the only Empresa that focuses on manufacturing tricycles.
3. In 2012, the Empresa successively passed a number of national technical certifications such as national ISO9001, TS16949, national compulsory certification 3C certification.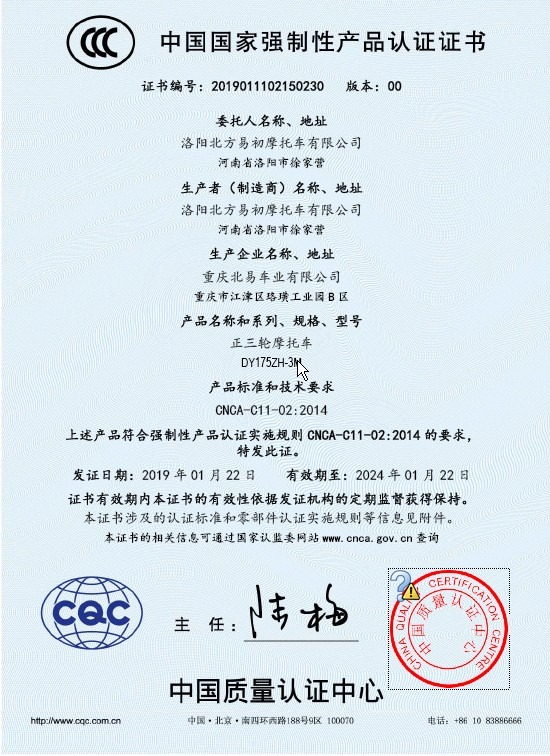 4. The Empresa introduced the concept of automobile development in 2013 to jointly develop three-wheeled motorcycles with a number of industry experts, and independently develops 3-5 new products each year.
5. In 2014, the Empresa expanded the scale of the production site by 5 times to meet the market demand of more countries, and the annual production capacity reached 150,000 units.
6. In 2014, in order to reduce costs and improve independent management capabilities, the Empresa invested 30 sets of automated welding robots and invested tens of millions in 3 automotive paint lines. There are 2 frame welding lines and a number of R&D patents have been obtained.
7. In October 2014, the Empresa increased its investment in the production of parts and components, realized the complete self-manufacture of core parts, and set up frame workshop, carriage workshop, cab workshop, rear axle workshop, and stamping workshop.
8. The Dayang brand became the No. 1 brand in Chongqing tricycle sales in 2015.
9. In 2018, the Empresa increased its investment in information management and independently developed a production management system, sales management system and customer management system. Leading the industry's informatization development.
10.In 2019, the market sales of the three products developed by our Empresa increased sharply, becoming the benchmark for peers to imitate plagiarism.