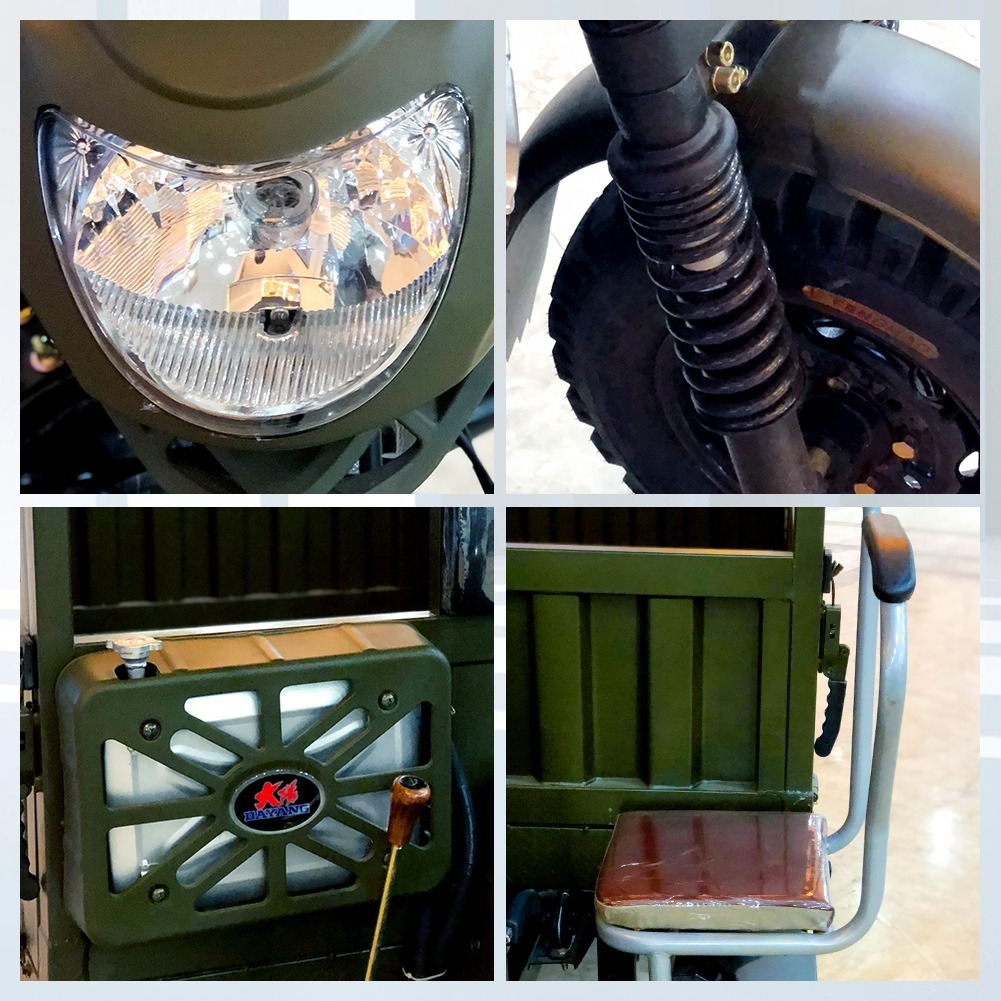 Power design truck cargo tricycle
Brake linkage we put it close to rears wheels in order to get quickly response to reduce accident , the material we use solid steel tubeΦ9.2mm ,it sturdy and durable

Augmentation : it is a device to change the torsion , it can widely use in different road condition it make tricycle more easy t on uphill

Equalizing bar to make sure when you take a sudden turn it still stable running
Power design truck cargo tricycle
Attributes
| | |
| --- | --- |
| Engine | 200cc,water-cooling |
| Chassis | 50*100 |
| Rear- Axle | Intergral booster drum,Φ220 |
| Operating model | Handle (optional Car Steering Wheel) |
| Front Shock Absorber | 09 type spring |
| Rear Spring Leafs | 5+2 |
| Rear Brake | Hydraulic |
| Wheels Type | Three |
| Front/Rear Tire | 4.5-12/4.5-12 |
1.The seat is made by high-grade leather and sponge, plus the backrest is improved according to human engineering, these things increase comfort and lower fatigue.
2.The tank adopts streamlined design which makes the outward of it looks domineering and the inside of the tank was rustproof, with excellent quality, safe and durable.
Power design truck cargo tricycle
1.Air filter protect engine from dust , engine is a very precise part the dust will definitely influence it
2.Actuating lever: after quenching and high temperature tempering it not easy to distort after using years
1.Most of the models we produce are very popular and best-selling models. In the same industry to set a benchmark for the product, other factories in the same industry are scrambling to imitate and copy.
2. We spend a lot of money to introduce several technical engineers every year, so as to constantly improve our technical team.
3. Since its establishment in 1992, Dayang brand has experienced numerous difficulties and stood out among thousands of motorcycle manufacturers. So far, the market value of Dayang brand has exceeded 4. 5.3 billion RMB. Equivalent to 4 zongshen motorcycle manufacturers.
5. The overseas influence of Dayang brand has covered hundreds of countries, and many cooperative outlets have been established abroad.