2021 new design popular style diesel semi cab cargo tricycle three wheels motorcycle High performance powerful tricycle Diesel engine motorized cargo tricycle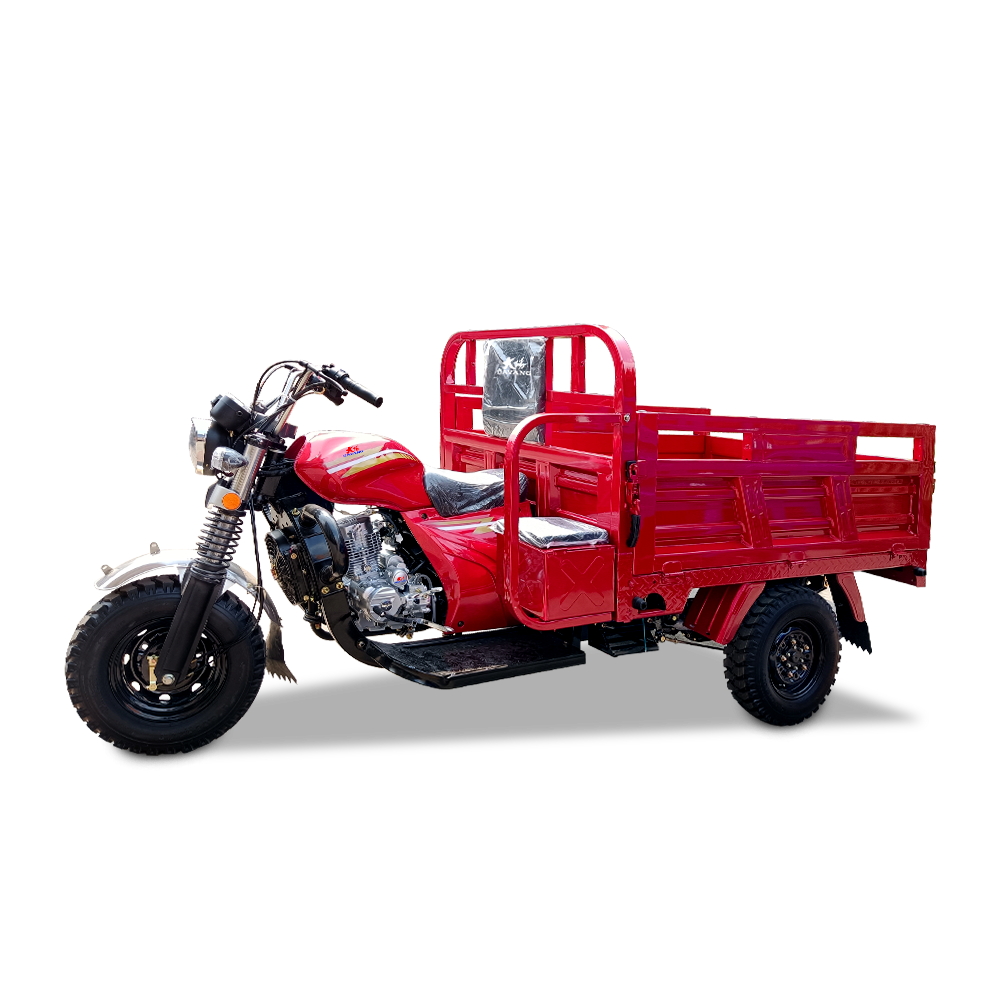 | | |
| --- | --- |
| item | value |
| Driving Type | Motorized |
| Body Type | Open |
| Certification | CCC,ISO9001,ISO14001 |
| Power | > 800W |
| Voltage | 12V |
| Displacement | 201 - 250cc |
| Brand Name | DAYANG |
| Place of Origin | Chongqing,China |
| Size | 3.3m *1.3m*1.3m |
| Product name | Cargo Tricycle |
| Color | Red |
| Engine | Water-cooled |
| Fuel type | Diesel Oil |
| Max Speed | 65km/h |
| Tyre | 5.00-12 |
| Cargo box size | 1.8*1.2m |
| Brake | Drum Brake |
| Loading capacity | 800kg |
| Rear axle | Semi-floating |
Our Beiyi company adheres to the business tenet of "quality first, customer first, fair competition, and benefiting the society", and carries out quality management activities in an all-round way.
Pay attention to improving the quality awareness and comprehensive management level of all employees to ensure stable product quality and customer satisfaction.
Not all manufacturers know the core technology of three-wheeled motorcycles, do you know?
1. Three-wheeled motorcycle chassis structure.
2. Rear suspension design.
3. Directional control structure design.
4. Appearance design of parts.
5. Design of key components.
6. Main designers.
Only the manufacturer can give you the best quality service and the lowest price, do you agree?
1. Manufacturers can find the best resources.
2. Good manufacturers can get the lowest price.
3. The best resources + the lowest price + the best design = the best quality product.
4. The manufacturer goes directly to the wholesaler to shorten the intermediate links.
5. Enjoy the best after-sales service and the most direct communication.
What are the mandatory controls on three-wheeled motorcycles in China?
1. Production access. The country has very strict requirements on the motorcycle industry. It must have a certain registered capital (at least 80 million), a certain production equipment, a certain testing equipment, and a certain technical support.
2. CCC certification. Each model must be reported to the National Testing Center for testing before it can be sold.
3. Simply put, production access means that you must have production capacity. CCC certification requires you to be standard for every product you produce, and only qualified products can be sold.